Here's What to Expect for the 2017 Halloween Season at Sinister Tombs Haunted House!
Home » Blog » Kentucky Haunts: An In Depth Look
November 11, 2016 By Haunt News & Press Releases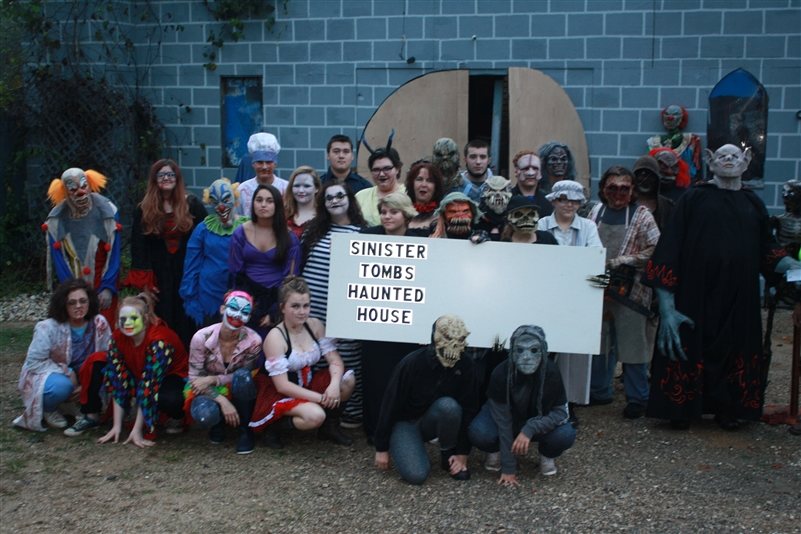 Part of are staff
KentuckyHauntedHouses.com recently sat down with Marvin Skaggs of Sinister Tombs Haunted House, to discuss what's new at Sinister Tombs Haunted House for the 2017 Halloween Season! Located in Eastview, Sinister Tombs is made up of multiple haunted attractions, offered for one great price.
Thrill-seekers have the chance to take on the creepy creatures that lurk throughout The Castle, The Woods, The Graveyard, The Cornfield and The Never-Ending Maze. Prepare to have your appetite for fright satisfied at Sinister Tombs!
What's new at Sinister Tombs Haunted House for 2017? Do you have any new rides, attractions, or special features that Haunt Seekers should know about?
In 2016 we just added Misty Specter a one of kind animation. In 2017 we as usual will remodel a large portion of Sinister Tombs to give our customers the best experience possible.
What are you most excited about for the 2017 Halloween Season?
All the returning actors from 2016, this will be the largest returning group we have ever had. The fact that their already aware of everything we strive to do with are guest should make the experience even better for our guests.
What differentiates Sinister Tombs Haunted House from other local haunts in Kentucky?
We are an actor based haunted house on the inside, very very interactive with guests. On the outside the haunted house moves to in your face scares. Where most haunted Houses charge for every area they add, we charge one low price.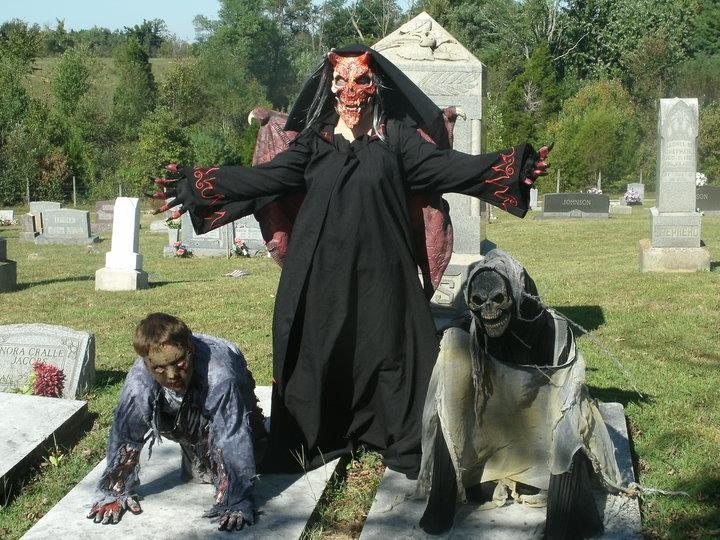 How long has Sinister Tombs Haunted House been in business? Can you tell us a bit more about Sinister Tombs Haunted House's history?
Sinister Tombs was Founded in 2001 by owners Marvin Skaggs & Sue Parrish as a way to raise money for Hardin County K-9 Search & Rescue inc. and from their bloomed into a huge show. We now help 10 groups including getting the 501 c 3 listing for both Hardin County Search and rescue and the Hardin County Mounted Search and Rescue.
What's your favorite experience since opening Sinister Tombs Haunted House?
Having people tell me they liked the show and will be back next year.
How long is a typical haunt experience at Sinister Tombs Haunted House from start to finish?
The average group in 2016 took 53 minutes to travel through the show. Some were able figure their way out quicker and some had to be found and help find their way out.
On a scale from 1 to 10, how scary would you say Sinister Tombs Haunted House is? Why?
I have never thought we were real scary, but on the average 8 to 10 people a night will not make it past the very first room of the haunted house. customers here fill out surveys, 90% advise this was the scariest haunted house they have been to. I would rate us at a 7.
Does Sinister Tombs Haunted House's property have any real haunted history? Do you have a spooky encounter you'd like to share?
The back story for the haunted house is very real. Death has been on these grounds for decades. One of the true stories that stand out is on October 31st 1913 on are very site Josiah Joe Nichols was shot and killed by Will Fryrear over a dog. The dog, owner and others have been seen and heard by many people and even staff over the years.
What inspired you to open up a haunted attraction? What's your favorite part of the business?
I opened Sinister Tombs to have fun, and raise money for charities. I most of the time enjoy passing on what I have learned to others. I have been in the field for over 30 years. I have learned so much from people Like John Denley and Rich Hanf and just want to pass on the knowledge and to have fun.
How has new technology (i.e. animatronics, special props, etc) helped you to enhance Sinister Tombs Haunted House?
Sinister Tombs is and always will be actor driven. Animations and great props help actors get into their roles and are a great asset, but a good actor will always be better than any animation or prop. The animations help the actor scare the ___________ out of people.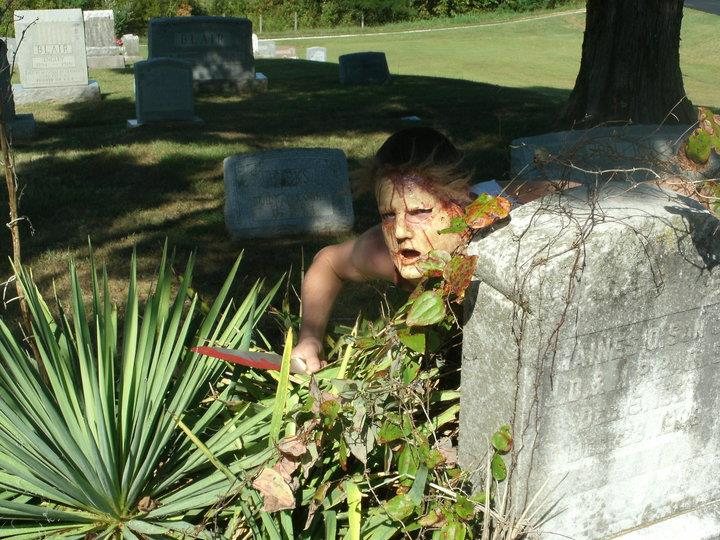 Can Sinister Tombs Haunted House accommodate large groups? How many people can experience Sinister Tombs Haunted House together as a group?
We limit the group size to 6 to as large as 10 because I want every group to experience the full effect of scares. I want every person in every group to feel fear, to see what happens and to enjoy the show. I feel to large of a group just makes it too hard for you to see all of what happens. 6 person groups is what we try run.
Does Sinister Tombs Haunted House offer any special deals, discounts, or coupons?
We give out a lot of discount coupons, we have special rates for groups $2.00 off for groups of 8 or more. 16 or more get $3.00 each off. Military, police, ems, firefighters get $2.00 off. We do specials with Bobby Jack Murphy and 105.5 some weekends were if people say they heard it their they get different amounts of money off.
Anything else you'd like to let us know about Sinister Tombs Haunted House?
Sinister Tombs haunted house goal is to entertain. Just like a movie we have comedy, scares, drama, and unlike a movie you interact with the monsters inside to make your journey, and it may change by the choices you make.